CD*NY Playford Ball 2023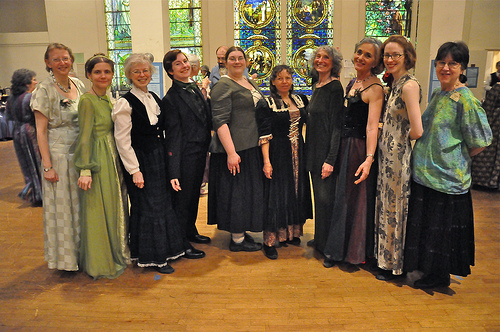 The 2023 Country Dance*New York Playford Ball will be held on Saturday, April 15th.
Our Mistresses of Ceremony are Dorothy Cummings and Margaret Bary. We are honored to have three talented musicians for our evening dance:  Chip Prince (piano); Douglas Creighton (winds) and lydia ievins (violin). Cynthia Shaw (piano) will play for our afternoon walk-through.
Dorothy and Margaret have crafted a program of classics from the past three centuries. A list of these dances, including links to videos of some of them, can be viewed below.
The Dances
| | | |
| --- | --- | --- |
| Alice | King of Poland | Sadler's Wells |
| Barbarini's Tambourine* | Love and a Bottle | Saturday Triad |
| Beautious Grove** | Mary K** | Spring in Sebastopol |
| Dancing on Air | The Mulberry Garden | Sunflowers |
| Fine Lady of Homewood | Nonesuch | Turn of the Tide |
| Freeford Gardens | Old Wife Behind the Fire | Up With Aily |
| The Haymakers | Quite Carr-ied Away | The Young Widow |
* Talk-Through Only. ** For Those Who Know.
Location
The Ball will be held at Good-Shepherd Faith Presbyterian Church, on New York's Upper West Side:
The afternoon review session runs 2:00-4:00 PM, followed by a break for dinner. The Ball starts at 7:00 PM and ends at 11:00 PM.
Dining near the Ball
Lots of time for dinner between the afternoon review session and the Ball at 7pm. Take a look at this list and find something that appeals to you. Remember to include our out-of-town friends for dinner. View or download here.
Registration
Advance registration is required. Admission is $40 per dancer (or $22 for full-time students). Please consider making a contribution to the Playford Ball Fund. Registration charges don't cover the total expense of the Ball.
Here is the Registration Form for those who wish to register by mail with payment by
check. Those who prefer to register electronically may use this online form.
Questions?  Contact this year's Ball Chair, Ellen Lapson: ellen1cdny@gmail.com.
Preparation sessions will be held on five Tuesdays from 7PM to 10PM:
March 14
March 21 ‡
March 28
April 4
April 11 ‡
and Friday, March 31‡ from 7:30 to 10:30 pm
All sessions will be held at CD*NY's regular venue: Church of the Village, 201 West 13th Street, New York, NY.
‡ These dates will focus solely on Ball repertoire. Other dates will also include some non-Ball dances.
Dance instructions
Download HERE.
Videos of dances
https://youtu.be/Y1R1fVsybNo
Music
Music for this year's Ball is available for purchase and download. Visit HERE for details.

Teaching Schedule
| | | | | | | |
| --- | --- | --- | --- | --- | --- | --- |
|  Date | 3/14 | 3/21 | 3/28 | 3/31 FRIDAY | 4/4 | 4/11 |
| | Light Prep | Intensive Prep | Light Prep | Intensive Prep | Light Prep | Intensive Prep |
| Alice | X | | | X | | |
| Barbarini's Tambourine | X | | | X | X | |
| Beautious Grove | | X | X | X | | X |
| Dancing on Air | | X | | X | | X |
| Fine Lady of Homewood, The | X | | | X | | X |
| Freeford Gardens | | X | | | X | |
| Haymakers, The | | X | X | | | X |
| King of Poland | X | | | | X | X |
| Love and a Bottle | | X | | X | | X |
| Mary K | | X | X | X | | X |
| Mulberry Garden, The | X | | | X | | |
| Nonesuch | | X | X | | X | |
| Old Wife Behind the Fire | | X | | | X | |
| Quite Carried Away | | X | | X | | X |
| Sadler's Wells | | X | | X | | X |
| Saturday Triad | X | | X | | X | |
| Spring in Sebastopol | | | X | X | | X |
| Sunflowers | | X | | X | | X |
| Turn of the Tide | | X | X | | | X |
| Up With Aily | | X | | X | | X |
| Young Widow, The | X | | | | X | |
---